Every year companies prepare their strategic planning, and it is common for organizations to get involved in this planning to develop, implement and evaluate strategies of a different nature.
But you may be thinking: is it worth embarking on a strategic planning process? The fact is that there are some advantages and disadvantages to this process, and this is what we will show you throughout this article. Keep reading!
What is strategic planning?
Strategic planning is the process that generates new ideas and actions that provide a central structure for the company to project its future. It is with him that the company decides today what it wants to be in the future, and how it intends to get there.
For this reason, you can have an immediate and decisive influence on your organization. But is it enough to apply some of the types of strategic planning for everything to turn out well? The answer is no.
There are advantages and disadvantages of strategic planning. And it is up to each company to carry out the appropriate process that helps it to benefit from all these advantages and avoid suffering the disadvantages that may exist.
Achieve goals successfully and collaboratively
Understand the importance of strategic planning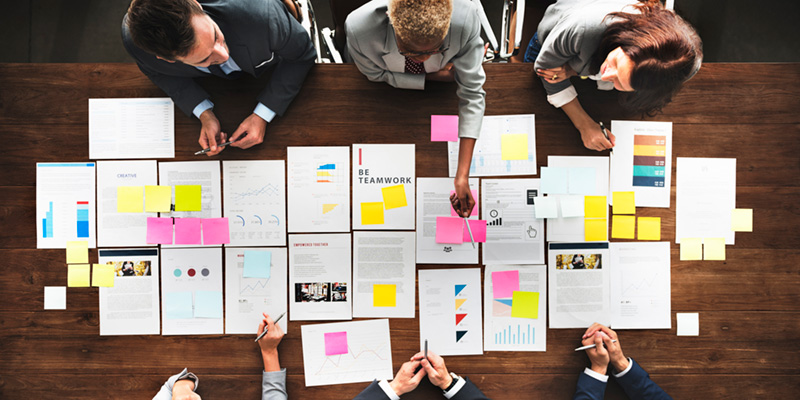 If your company is small, medium, or large, if you are not already planning the next steps and performing your actions well, stay tuned: you may be missing great opportunities to create a competitive advantage in your business.
A company that does not plan, does not know what it wants to achieve and does not direct its actions towards it. In practice, that is "management in the dark.", and at best, it means stagnation.
No matter what your goal is, one thing is certain: any team that does not have good planning on its hands cannot act decisively. Developing a strategic vision for the future of your company brings benefits to both your company and your customers. After all, it guarantees a healthy and stable growth of the business and, at the same time, manages to generate value for the public, that is, everyone wins.
So why not start now?
5 advantages of strategic planning
1- Proactive and not reactive organizations
Strategic planning can help your business be more proactive than reactive in countless situations.
This type of document allows organizations to predict their future and be adequately prepared. In other words, organizations are better able to keep up with constantly changing market trends, always staying one step ahead of the competition.
2- Establish a sense of direction
A strategic plan helps define the direction an organization should take. In addition, it helps to set realistic goals and objectives, which are aligned with the vision and mission of the company.
3- Increased operational efficiency
Well-structured strategic planning provides a kind of road map to align the functional activities of the organization to achieve the established objectives. It guides management discussions and decision-making to determine resource needs to achieve previously defined objectives and thereby increase operational efficiency.
Systematizes the OKR methodology with Seed
4- Increase market share and profitability
A well-targeted and structured approach to turning all sales and marketing efforts into the best possible results can go a long way in increasing profitability and market share.
5- Increased business durability
Many companies end up closing their doors very soon precisely because they have not been strategically prepared. With markets increasingly globalized and in constant transformation, organizations that do not have a solid foundation, focus, and forecast will have difficulties in the middle of the road, being able to close their activities much sooner than one might think. However, the chances are more favorable for those who have a strong and well-defined strategic plan.
Looking for software to manage your company? Click here.
3 Disadvantages of strategic planning
1- Application difficulties
Strategic planning includes various types of continuous processes that check all the major critical components of a business. Being a complex process, it requires a lot of patience, discipline, and persistence. And that, for some, can be a great disadvantage.
2- Time-consuming process
The implementation of strategic planning is not an overnight process. The management team of the company must take a long time to get the new processes correct.
Because it is a long process, weighing the advantages and disadvantages of strategic planning, immediate companies end up rushing. This type of thinking ends up sidelining the strategy, which can hurt the business much more soon.
3- High cost for small and medium enterprises
A good strategic plan can be expensive for small and medium-sized businesses or those just starting out. This is because additional efforts are needed, for example, to analyze indoor and outdoor environments.
In addition, some specific tools are needed to implement strategic planning accordingly, as well as the possible recruitment of competent personnel.
Technology as a way to help the implementation of strategic plans in your company
An institution that manages to build and delegate a good Strategic Plan has great possibilities of overcoming the adversities of the globalized world and becoming a benchmark in the field in which it operates. However, it is important to note that a company that has not defined its planning will end up being part of the group of "another institution with plans for the future", running the risk of not having that "future".
However, it cannot be forgotten that to achieve the desired objective of Strategic Planning it is necessary to have the support and commitment of the entire functional body of the company, since those responsible for the different phases of the process are the members of the organization themselves.
Therefore, I invite you to discover Seed, a software capable of taking your company to a new stage and helping the process of strategic planning of your organization.
Do you want to receive more content like this? Don't forget to follow Actio on Instagram, Linkedin and Facebook.